Again, this is from yesterday, but I couldn't post it. I can't believe it was only yesterday... We have gone so far!!
This morning we woke up early and went to Arches, which is another one of our favorites from the first ca-va drive.
Balanced rock!:
Hey Dad! He's in front of Turret Arch:
It was so windy where we stayed and at the park, and when we were walking around. Red dust got everrrywhere.There were also really pretty high desert wildflowers.
Me using a macro setting and hiding from the wind+dirt:
This was along rim rock-- I love the lime green spears!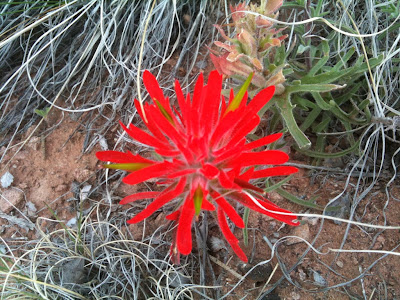 After Arches we stopped in Moab, which is so cute! It is busting at the seams with outdoors people-- rock climbers, cyclists, runners, hikers, rafters, four wheelers and off roaders. As a result there are equally awesome cafes, stores, and little shops. I have never seen soany wranglers all in one spot either.... It was like the motherland. We got breakfast at an adorable cafe. They even had my long-lost favorite drink! Limonata.
The cafe was called the Love Muffin :) the door note:
We also got our cigarette charger fuse changed in Moab-- fortuitously there was a little uhaul depot with someone who knew what to do!
We drove by this: a hole! On the other side was a store... I think rock climbing stuff?
After Moab we headed toward Monument Valley and the wind we had back in Arches got a lot stronger. It actually was a dust storm. The gusts were comparable to the tornado wind back in Kansas (49-50mph I believe), except this time it was across 300+ miles!! So so so insane. It was all the way from Arches to the Grand Canyon.
My dad talked with a local in a tiny town at a gas station and he said it's the worst it's been in five years. It's so windy there is a massive amount of dust in the air and it looks like the valley is full of smoke.
And there are tumble weeds!! I wanted to bring one home... And I am. We pulled over in the crazy wind storm and my dad and I went to the fence that endlessly runs through the desert even though nothing is around, and plucked tumbleweeds from the fence and threw them up into the wind so they could tumble on. There were hundreds gathered against the fences! We put two in the wrangler. And today at the California border inspection the inspector even checked them
out to make sure they weren't the kind that have lots of seeds. Hehe.
It was actually this windy, even though it looks like I'm posing:
- Posted using BlogPress from my iPhone